Since 1955, Nikkan Keizai Tsushin Co., Ltd. has been delivering "live information" on the liquor, food and other related industries as well as providing "accurate data" as support.
Reporters specializing in each field of the industry have been dispatched to the news frontline for "specialized reporting", as distinguished from general-interest news reporting.
These specialist reporters, who have taken firm root in their respective fields, accumulate data diligently and steadily through interpersonal communications in order to contribute to these industries.
Reflecting this corporate attitude, we intend to create various publications by gathering information directly, and by collecting and processing a large amount of accurate data.
Your understanding and cooperation would be much appreciated.
The Beverage & Food Daily News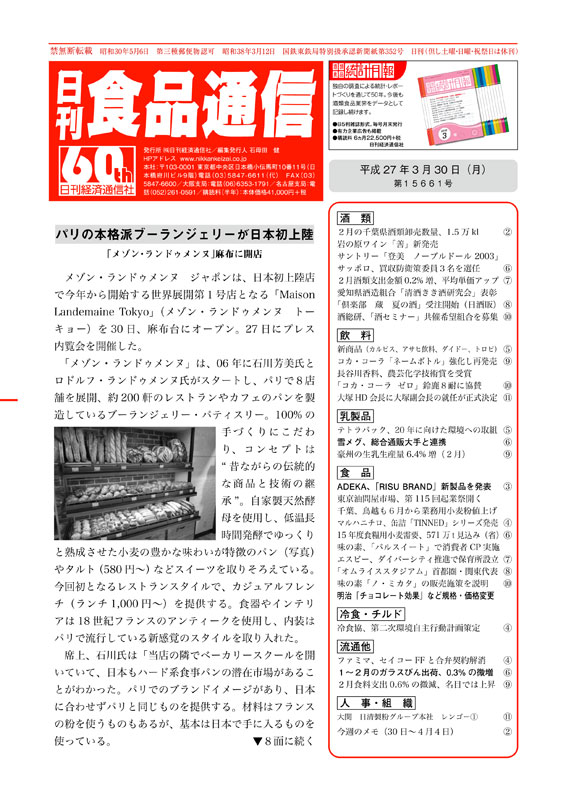 Only Japanese.
This is the only comprehensive trade paper for the liquor and food industries that reports with speed and clarity the daily developments in dairy products, soft drinks, liquors, cooking oil and seasonings, canned and chilled foods, flour and confectionery goods, as well as in distribution, materials, personnel management, and corporate finances. News on the industries and related industries in one glimpse.
Sale on every weekday
A4 size.
Six-month subscription 41,000 yen
The Beverage & Food News Commentary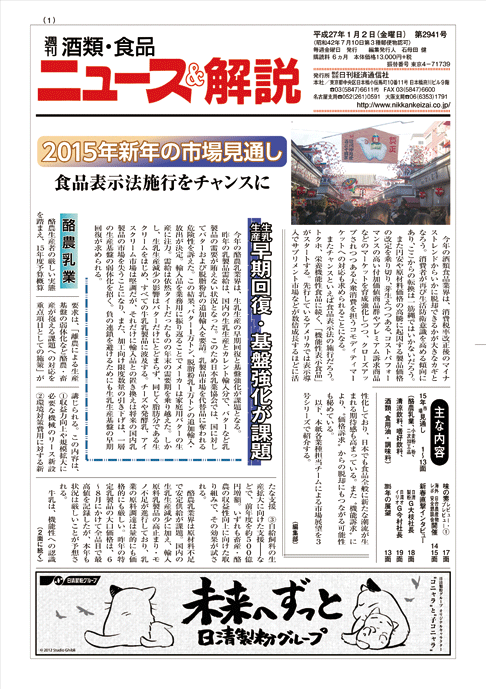 Only Japanese.
Recent topics of special interest are studied and explained in this publication. It features interviews with key industry figures, profiles of companies that are drawing attention, information on raw material and products, top executive interviews, and a wide range of the latest information and figures not covered in the bulletin.
Sale on every Friday
A4 size.
Six-month subscription 13,000 yen
The Beverage & Food Statistics Monthly
Only Japanese.
This monthly publication provides a two-part compilation of official data essential in the industry, as well as commentary on various industries based on independently gathered data (article format). In particular, detailed monthly analytical commentary on each industry examines the structure of the industry (total and share by company), their respective strategies and policies, and developments regarding products. The publication has established a reputation as "the compass for the industry". It also features up-to-the-minute financial reports, capital investments, and regional reports. It has the support of a wide range of readership, including financial and research companies, and universities.
Issued at the end of last month
B5 size.
Six-month subscription 22,500 yen
Annual Statistical Data on Liquor & Food Industries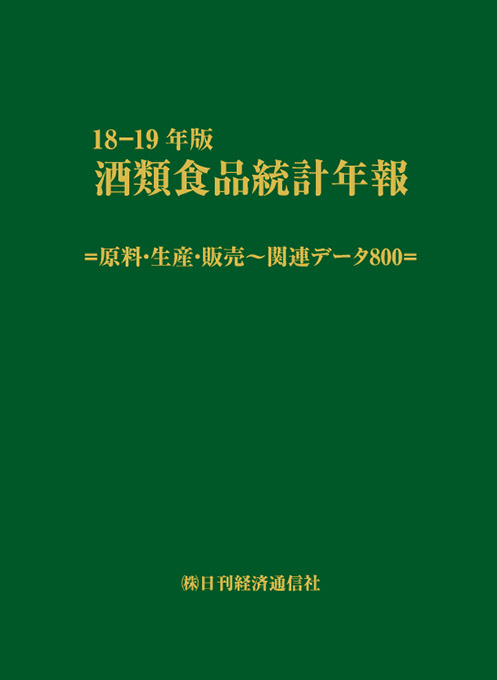 Only Japanese.
This publication is a compilation of statistical data for some 30 industries in the liquor and food category. It has roughly 800 tables covering raw materials to processing and distribution. It also includes basic statistical data on manufacturing, consumption, export / import, raw materials, and distribution, as well as for analysis of these industries. It also covers seasonal fluctuations (monthly production and consumption) and regional developments. Published biannually to alternate with "Manufacturing and Marketing Shares in the Liquor and Food Industries".
Every other year. Sale on Nov, 2018
A4 size.
48,000 yen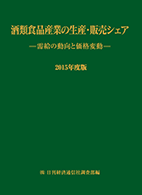 Only Japanese.
This publication is an original data collection from Nikkan Keizai Tsushin Co., Ltd. It is an essential tool for market research that features detailed data on 24 industries and 280 items, supply and demand trends, level of concentration in manufacturing (marketing, pricing changes) and trends in products for home and commercial uses.
Every other year. Sale on Dec, 2017
A5 size.
48,000 yen
77 knowledge of liquor and the food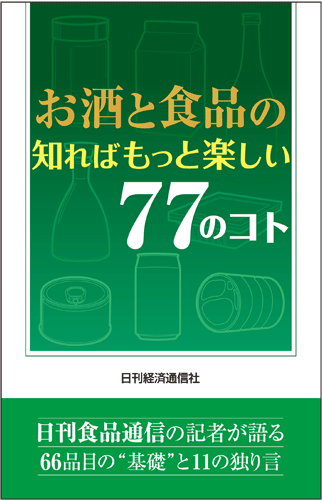 66 basic knowledge and 11 columns "Soliloquy of drunk writer". A specialized reporter explains it in detail every field of market. It make explain statistics, a graph, a maker, a product finely.
This book is suitable for beginners and all people who are interested in "a food".
This Market summary is based on our "Manufacturing, Marketing Shares in the Liquor & Food Industries".
Sale on Mar, 2012
B6 size.
1,200 yen